Details
ICC Smartcard meters
Prepaid Smartcard meters use integrated circuit cards (ICC), which are pocket-sized polycarbonate "credit cards" with embedded integrated circuits.
ICC Smartcards provide identification, authentication, data storage and application processing enabling information transfer between POS software application and the meter.
Smart-cards authenticate identity through public key infrastructure (PKI). The card stores an encrypted digital certificate issued from the software application along with other relevant information such as user details, tariffs rates etc.
Tenants pay for their energy before they use it – Point of sale (POS) software administrator reads the users smartcard then adds the required credit. These are inserted into a slot in the meter, which credits energy onto the meter.
Allowing a landlord, property manager, condominium association, homeowners association, or other multi-tenant arrangement to gain complete control of tenant's power consumption & help's tenants to manage their own budget too.
This means tenants are responsible for paying their electricity as they go and won't leave the landlord with an unexpected bill to pay if they move out. Also it reduces any headache of changing the names registered with an energy company each time a tenant moves out and a new tenant moves in.
This system has several advantages:
- It's an easy way to budget for electricity, no unexpected bills.
- Reusable Smartcards, up to 100,000 times!
- Refund unused credit
- Allows your tenants to stay on supply while repaying any money owed.
- Monitor tenant consumption without visiting the property.
- Print Receipts & Reports.
- Interrogate historical data.
- Embedded digital load control.
- Stop Electricity theft.
- Change tariffs on the software not the meter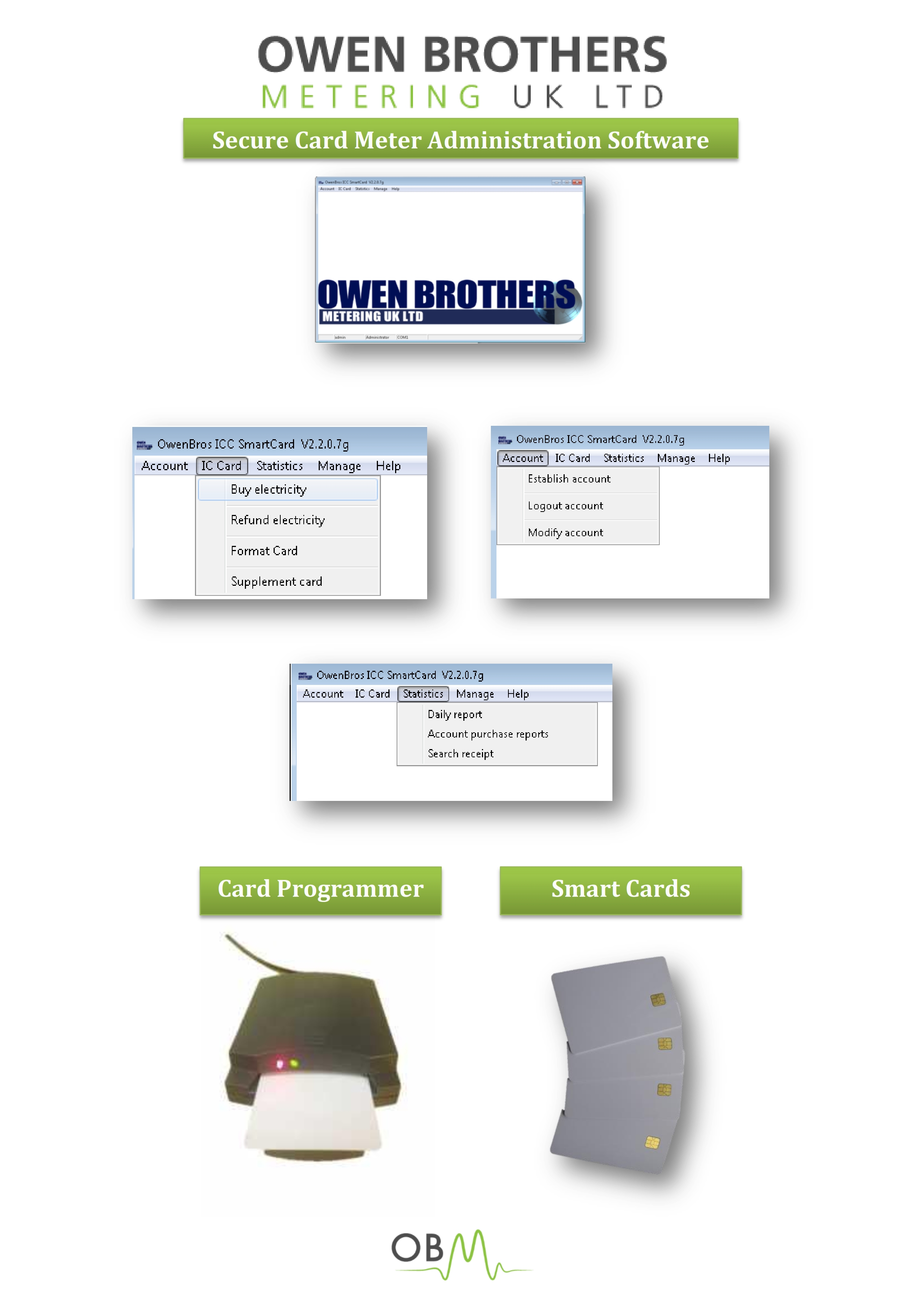 Additional Information
| | |
| --- | --- |
| Manufacturer | Owen Brothers |
You may also be interested in the following product(s)