Energy Management
A smart meter is usually an electrical meter that records consumption of electric energy in intervals of an hour or less and communicates that information at least daily back to the utility for monitoring and billing purposes.
Smart meters enable two-way communication between the meter and the central system. Unlike home energy monitors, smart meters can gather data for remote reporting. Such an advanced metering infrastructure (AMI) differs from traditional automatic meter reading (AMR) in that it enables two-way communications with the meter.
The term Smart meter often refers to an electricity meter, but it also may mean a device measuring natural gas or water consumption.
Similar meters, usually referred to as interval or time-of-use meters, have existed for years, but "Smart Meters" usually involve real-time or near real-time sensors, power outage notification, and power quality monitoring. These additional features are more than simple automated meter reading (AMR). They are similar in many respects to Advanced Metering Infrastructure (AMI) meters. Interval and time-of-use meters historically have been installed to measure commercial and industrial customers, but may not have automatic reading.
Research by Which?, the UK consumer group, showed that as many as one in three confuse smart meters with energy monitors, also known as in-home display monitors supplied by most utilities.
The roll-out of smart meters is the main strategy for energy savings.
-Smart meters may be part of a smart grid, but alone, they do not constitute a smart grid-
Advanced Metering Infrastructure (AMI)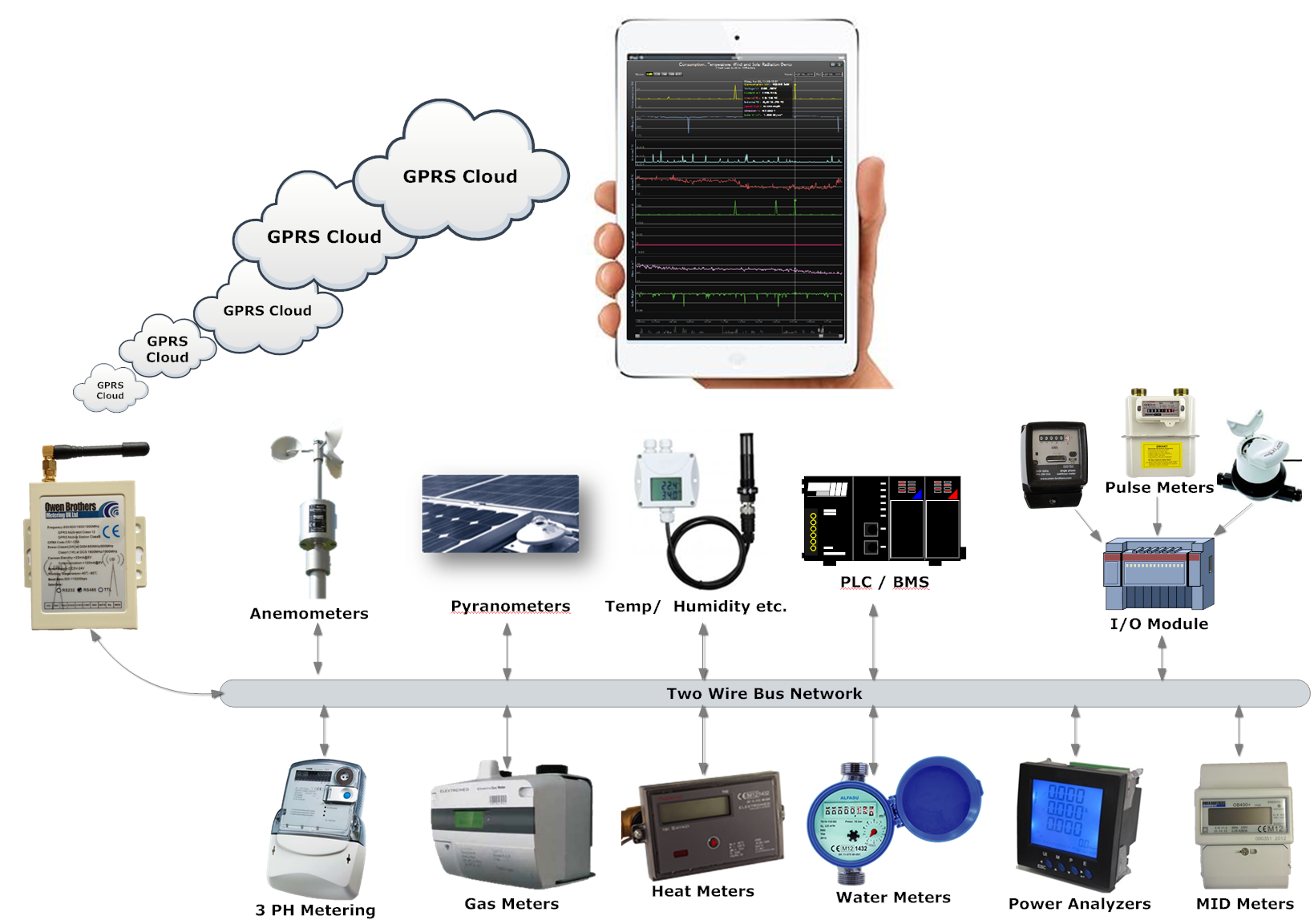 Owen Brothers Metering UK Ltd have been specialists in Metering equipment for over 60 years providing solutions to thousands of satisfied customers around the globe, We manufacture a wide range of metering hardware, test equipment, software, complete aM&T solutions; guaranteed to save you energy, reduce costs and keep up with legislation.
Our advanced suite of software makes your own energy management more effective and efficient: transforming data into information, designed to work with devices from various manufacturers to create a flexible energy analytics system capable of managing all your remote monitoring/control needs. For many businesses the challenge today is not just simply getting hold of energy data but being able to use it effectively, collecting data is just the first step to effective energy management.
Owen Brothers Metering's Smart Meter Network transforms data into information through its intelligent real time reporting and analysis.
Whether you're an energy manager or just want to reduce your environmental impact, we can help you identify, communicate and rectify inefficiencies
: Transform data into dynamic analytics
: Easy access to all your data
: Real Time reports and graphs available for analysis
: Take a proactive and profitable approach to energy management
: Control lighting & equipment remotely
Our cloud-based system allows you to send data from any location to the cloud and view online from anywhere.
Access all your data with user friendly interface via any web browser @ http://www.readmymeter.co.uk/login.php

Applications include, Remote Power System Analysis, Power Factor Correction, Renewable Energy Generation Monitoring, Energy Management, Remote Monitoring and Tennant Billing.
Overview:
ReadMyMeter web sites gather data from external devices including Data Logging stations, Electricity, Gas and Water Meters and other devices using Internet technologies and allow users to access the data via web browsers over the Internet.
Collecting Data:
The software on the web server is designed to handle various amounts of data from each device depending on its configuration, the data can vary from a simple reading from an electricity / gas / water meter to complete data on the system including all three phase Voltages, Currents, Imported and Exported power (for solar and wind farms), Power Factor for each phase, supply Frequency, local temperature, wind speed and direction and solar radiation. The data is collected on a time basis from twice a minute to every hour etc. that is again specified in the configuration data.
Displaying Data:
The web server provides the data to registered clients who have a valid account allowing them to access the data on a specific device or group of devices by means of standard web pages.
Backbone to Your Solution
Our Multi-Net Modems provide coverage across the 5 UK networks* O2, Vodafone, 3 and Everything Everywhere (Orange and T-Mobile).
The system automatically connects to another network if signal is lost – ideal for devices located in rural areas out in the field or poor coverage areas.
Solution Hardware
We partner with leading technology partners to offer advanced, reliable hardware to support our solutions.
All traffic passes through Cisco equipment, including Anomaly Detection Systems (ADS), Intrusion Detection Systems (IDS) and Intrusion Prevention Systems (IPS). This is clustered across multiple locations with A+B power supplies as a minimum.
High-performance Servers
We offer the latest range of Dell PowerEdge servers which are renowned for quality, performance and data centre efficiency. The most recent introduction is the new Dell PowerEdge server line, which delivers double the performance of previous generations whilst using less power.
- Latest generation Dell Poweredge servers
- Server maintenance and patch updates
- SafeDNS
- Redundant Managed Cisco firewall
- Advanced Proactive Uptime Monitoring
- Annual security audits
- Data Recovery Insurance
- Bandwidth Insurance
100% carbon neutral hosting

Redundant Firewall
We deploy the Cisco range of firewalls which offer award-winning high performance security and VPN solutions.
We insist that all severs are placed behind a firewall to keep our network and client solutions safely protected.
The Cisco ASA 5500 Series provides advanced application-aware firewall services with identity based access control, denial of service (DoS) attack protection and much more – all built upon market proven Cisco PIX/ASA Security Appliance technology. Functionality includes the ability to create
Virtual Private Networks (VPN) along with supporting a large number of concurrent connections to the platform they are protecting.
We provide the most effective backup strategy with the overall objective of providing the ability to restore both configuration data and content in the event of a server or component failure.
Our new data centre facility includes our Dedicated Backup Network™. This means that backup servers are run on a completely separate network to your main servers, with separate switches and connections,
UK Based Data Centres
Our data centres are located in multiple locations through the North West of England and London which are connected by a 10GB rings with another dual fibre ring connecting five data centres around London itself.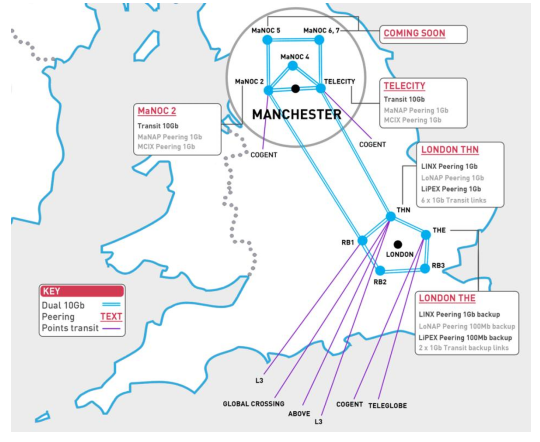 This means that, in the unlikely event that any one connectivity link goes offline there will always be an alternate route which can be utilised to avoid any downtime or disruption.
In 2011, we opened our brand new N+1 data centre which features advanced cooling and security systems as well as the latest energy saving technologies. Each data centre is fully powered, secure, resilient and equipped to handle the latest computing trends such as high density computing, virtualisation, distributed storage and multi site disaster recovery.
Networks
Multi-homing and failover firewalls to provide the definitive optimised conditions for server hosting. Bandwidth is un-contended and aggregated from multiple Tier 1 suppliers, guaranteeing 24/7 connectivity.
We have multiple transit links into our facilities from different clients including: AboveNet, Global Crossing, Level 3, Teleglobe and Cogent. Each and every one of these suppliers has been selected for their global reach and reliability. Our reliable peering strategy combines with state of the art Cisco and Juniper hardware to ensure a network with no single point of failure. We also have peering arrangements in place with LINXP, LONAPP, LIPEX, MaNAPP and MCIX.
Core equipment and circuits are run well below capacity, allowing bursts in traffic and network spikes to take place with no effect on our clients, so you are always equipped to handle increased visitors.
Offering an independent viewpoint on performance, industry monitor Webperf rates the UKFast network as one of the fastest in the UK.
- Network guarantee: network infrastructure will be available 100% of the time. Network availability means all infrastructure including routers, switches and cabling is working (when not undergoing scheduled maintenance).
- Hardware guarantee: In the remote event of a server hardware failure that cannot be fixed, we guarantee the hardware will be replaced within 15 minutes of the problem's diagnosis.
Please contact sales@owen-brothers.com for full details.